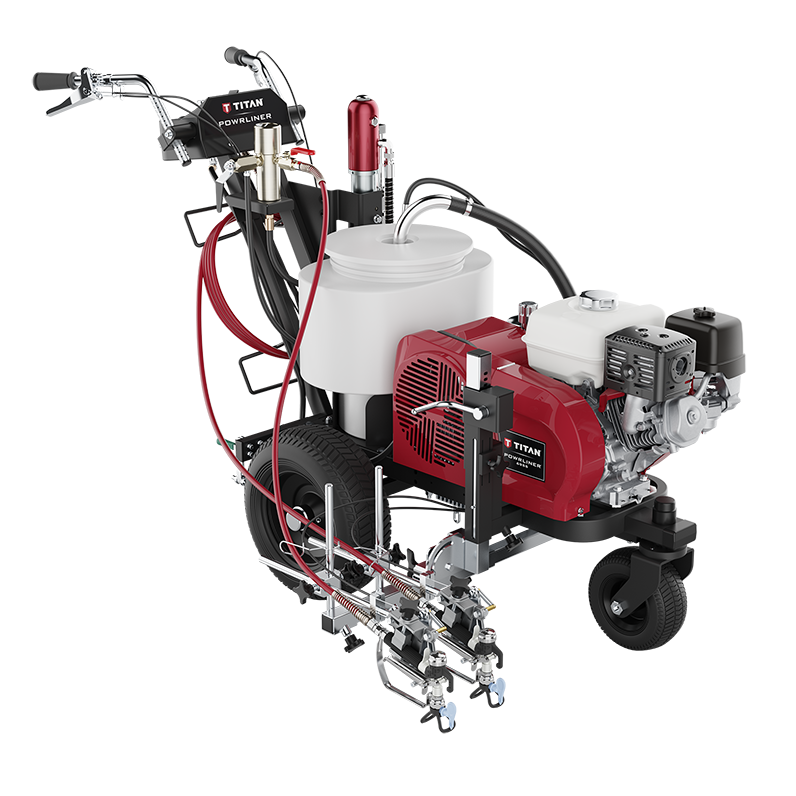 Impress on any surface
Whether you're an entry-level contractor or a seasoned industry pro, the PowrLiner series is designed for quick and professional work on any surface. Here's what makes PowrLiner so masterful in marking any patch of field or pavement:
Versatile stripers ranging from simple, compact designs to state-of-the-art machines with a vast arsenal of built-in technology
Series features hydraulic, sealed hydraulic, or clutch-driven systems to perform on small to extremely large jobs
Intelligent design to improve life on the job site
Best-in-class ROI and performance in marking any patch of field or pavement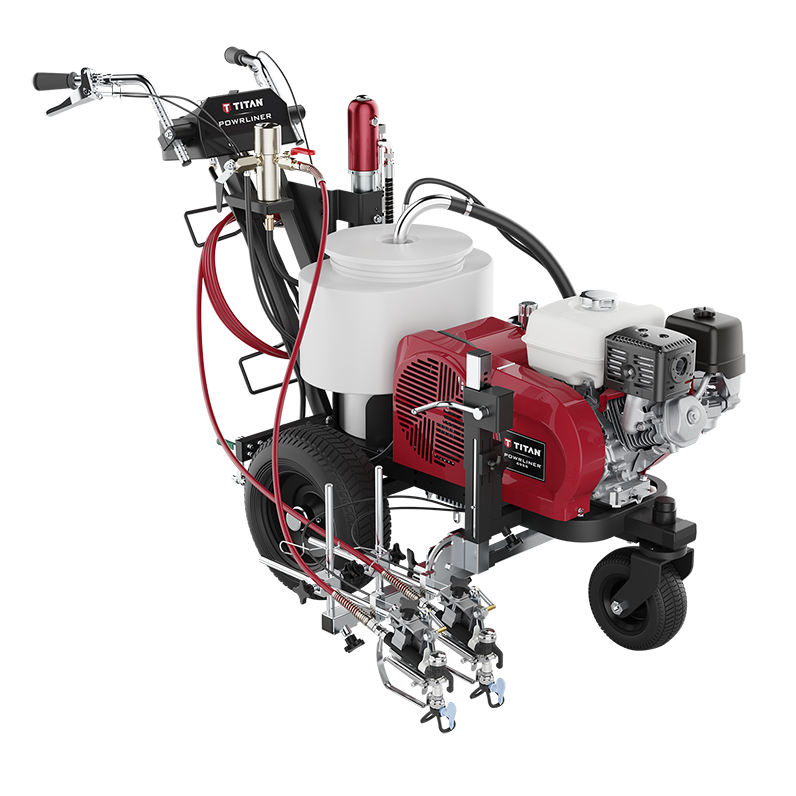 A longer life for a smoother spray
Featuring Speeflo HydraDrive
Smooth, slow-stroking hydraulic drive that extends the life of the sprayer
External hydraulic fluid porting with new upgraded fittings allows for easy field service
JIC fittings and precision rod alignment ensure maximum pump life
Outlast the competition
Featuring Severe Service 900 Pump
Tempered cylinder and piston rod increase pump life up to 150% longer than competitive pumps
Self-adjusting packings prevent over-tightening and help prevent premature wear
Foot valve removes easily for convenient cleaning and maintenance
Built-in brains for flawless striping
Featuring Intelligent Design
PowrCenter features easy-to-use controls, a tip holder, phone charging port, and cup holder
DeadLock handlebars are easily adjustable in three dimensions for maximum comfort
SmartArm™ unique gun mount built to pivot and lift for quick and easy adjustments and transportation
Driven by the industry's best engines
Powered by HONDA®
Exceptionally quiet running engine
Smooth performance with lower vibration
Low oil alert system prevents engine seizure
SmartArm™
Makes line adjustments and transportation quick and easy.
Deadlock Handlebars
Easily adjust handlebars on three planes; in and out, up and down and pivot forward or back.
Specifications
| | PowrLiner 4955 | PowrLiner 6955 | PowrLiner 8955 |
| --- | --- | --- | --- |
| Max Delivery | 1.25 GPM | 4.7 LPM | 2.25 GPM | 8.5 LPM | 2.50 GPM |
| Max Tip Size - 1 Gun - Gas | 0.033" | 0.050" | 0.054" |
| Max Tip Size - 2 Gun - Gas | 0.025" | 0.033" | 0.038" |
| Max Operating Pressure | 3300 PSI | 22.8 MPa | 3300 PSI | 22.8 MPa | 3300 PSI | 22.8 MPa |
| Engine | Honda GX120 with Pull Start | Honda GX160 with Electric Start and Low Oil Alert | Honda GX200 with Electric Start and Low Oil Alert |
| Part Number | 0290052 | | |
| Part Number - Gas | | 0290053 | 0290054 |
| Product Name | PowrLiner 4955 |
| --- | --- |
| Max Delivery | 1.25 GPM | 4.7 LPM |
| Max Tip Size - 1 Gun - Gas | 0.033" |
| Max Tip Size - 2 Gun - Gas | 0.025" |
| Max Operating Pressure | 3300 PSI | 22.8 MPa |
| Engine | Honda GX120 with Pull Start |
| Part Number | 0290052 |
| Product Name | PowrLiner 6955 |
| --- | --- |
| Max Delivery | 2.25 GPM | 8.5 LPM |
| Max Tip Size - 1 Gun - Gas | 0.050" |
| Max Tip Size - 2 Gun - Gas | 0.033" |
| Max Operating Pressure | 3300 PSI | 22.8 MPa |
| Engine | Honda GX160 with Electric Start and Low Oil Alert |
| Part Number - Gas | 0290053 |
| Product Name | PowrLiner 8955 |
| --- | --- |
| Max Delivery | 2.50 GPM |
| Max Tip Size - 1 Gun - Gas | 0.054" |
| Max Tip Size - 2 Gun - Gas | 0.038" |
| Max Operating Pressure | 3300 PSI | 22.8 MPa |
| Engine | Honda GX200 with Electric Start and Low Oil Alert |
| Part Number - Gas | 0290054 |