Titan Promotions
2019 Titan Rewards
GET RED. GET REWARDS.
Offers valid June 1, 2019 thru January 31, 2020. To redeem for the rewards, Click HERE.
Giveback Sweepstakes
Attention all Titan brand loyalists! As a Thank You to our valued customers, here's a chance to win some great prizes. Click HERE for more information on how to enter and what prizes you can win.
Sweepstakes runs October 1, 2019 thru November 30, 2019.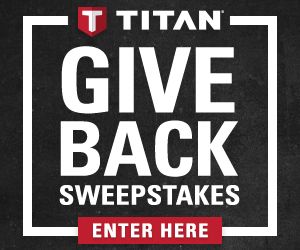 Back To School Promo
Get a FREE RX-80™ Gun, Hose and Tip Kit when you buy any NEW Impact® 410 or 440 sprayer.
Offer valid September 1, 2019 thru October 31, 2019. Online submission must be completed by November 15, 2019
Click HERE for more detailed information and entry.